Mine Squadron 11 Det. Alfa and Mine Division 112 is holding their first reunion October 13-16, 2016 in San Antonio, Texas to commemorate the 50th Anniversary of the establishment of Mine Squadron 11 Det. Alfa in 1966 in Nha Be, Vietnam.  For more information please email ray@minedivision112.com. 
Map of Combat Chart, South China Sea, Vietnam, SAI GON, 1965 – Link shows an original vintage map used by MinRon 11 Detachment Alfa / Mine Division 112 for mine sweeping operations on the Long Tau River.  Map is in high-resolution.  Opening may take some time.  (From the collection of Bob Matush, veteran Navy sailor from Mine Division 112)
Map of MSB route on Long Tau River (marked in yellow) – This link shows the river route marked in yellow of mine sweeping operations by MSB's.  (From the collection of Bob Matush, veteran Navy sailor from Mine Division 112)
The Long Tao Sweepers – MSB's in Vietnam 1965-1970 by Ed Sinclair
Blog "Iron Men In Wooden Boats" – Historian with an abundance of the Navy's Small Boat Minesweeping history by Edward B. Sinclair
The Gamewarden's Association – Task Force 116  – The oldest, continuously operating Vietnam Veterans Group in the United States
Mobile Force River Association – Task Force 116
Water Mine Warfare in South Vietnam – by Edward J. Marolda
USS Guide Website – Wooden Boats and Iron Men
Historical Summary Report- 9/66 – See Page 11
"The Small Boat Navy" Narrated by Raymond Burr – Shows MSB's patrolling the rivers in Vietnam Video available from Military History Videos documenting minesweeping operations of World War II, Korean & Vietnam (includes footage of MSB sweeping the Long Tao river) Mine Division 113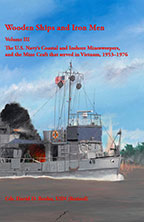 "Wooden Ships and Iron Men: The U.S. Navy's Coastal and Inshore Minesweepers, and the Minecraft That Served in Vietnam, 1953-1976",  written by Cdr. David D. Bruhn.  Highly recommend this book.  Click to view his website.
The Mobile Riverine Force Association publication of "River Currents" – "MSB's of Vietnam" story.      
Website – www.navy.togetherweserved.com – The largest exclusively U.S. Navy Network of its type, enables Sailors, of all eras, to re-connect with former Shipmates, share in the camaraderie of other Sailors and record their entire U.S. Navy service in the finest presentation available so this may never be forgotten.